The Be Well EXPO is in full production mode. On April 15th, 2023 at 10:00am, the doors will open at the Shriner's Grand Ballroom at 3601 NW 36th St in OKC. Don't miss it.
---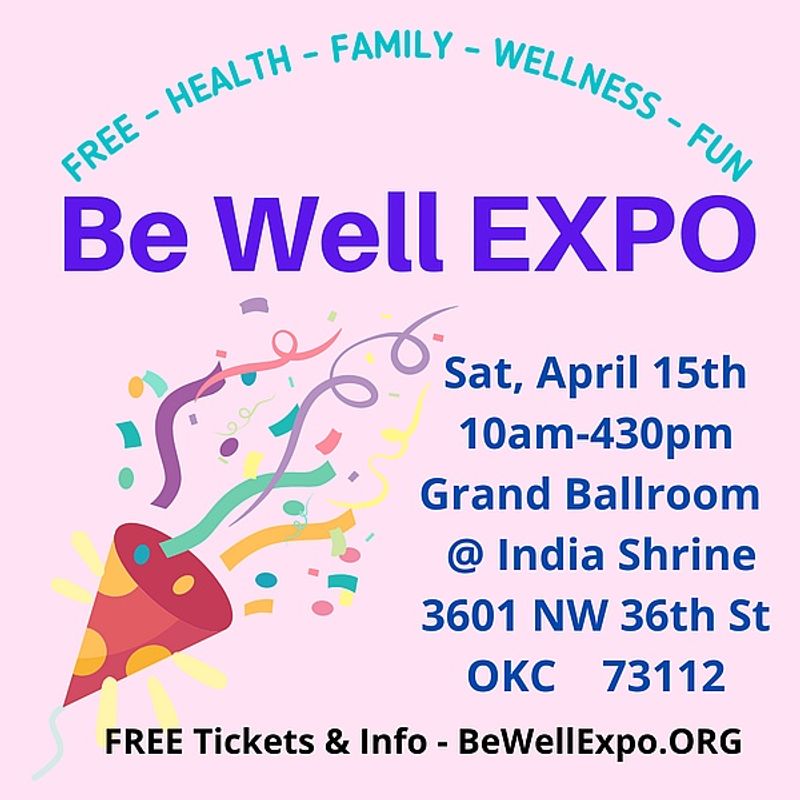 The Be Well EXPO focuses on health and wellness - complementary, alternative and holistic.
The Be Well EXPO is a free community event, focused on helping attendees learn more and take more control of their own health and wellness. When we empower each other, then everyone benefits.
Our vendors will be discussing a wide variety of health and wellness issues. There will be acupuncture, oral health, clean water, healthy babies, relationship therapists, hypnotherapy, massage, meditation specialists, entheogen and plant medicine specialists, ozone and oxygen therapies, and much, much more.
We can't wait for this fun event to be here. And yet.........
We expect hundreds of attendees at OKC's Be Well EXPO.
Visit www.BeWellExpo.org to see pictures of the Tulsa Expo, held last Sept 17th
We've got a lot more work to do. We expect hundreds of attendees and they are looking for all sorts of health and wellness. We need YOU. We need more vendors and more people who are willing to share their specialty with the OKC community. The Shriner's Grand Ballroom is HUGE, and we want to fill it up. This is a goal that we can reach together. So come join us.
We also need volunteers!
We need volunteers for the front desk at the EXPO. We also need a few volunteers to wander around and answer any questions about who's next in the speaker lineup, where the bathrooms are, etc. So, if you or someone you know might be willing to help out, that would be really helpful. And finally, if you know someone who has great photographic skills and would like to volunteer to take pictures, please send them our way.

Snacks and (hopefully) a smoothie bar
There will be healthy snacks at the Expo! Attendees can purchase inexpensive and healthy treats. We will have tables over by the snack bar so they can sit a while and enjoy the sights and sounds. This ensures that visitors to the Expo stay just a bit longer, and that means they will have more chances to interact with vendors!! WOOHOO.
And there is MORE to come.
At the next Council meetings - in OKC on Thursday the 9th, and Tulsa on the 16th - we have a HUGE announcement about a new partnership. It will being benefits for our Council members in a kind of spectacular way. Mark and I are 100% excited about what's to come. It will take our outreach as a group to new heights. SO, DON'T MISS THE NEXT MEETING. And encourage any other doctors, providers or practitioners that you know to come join the Wellness Council of Oklahoma.